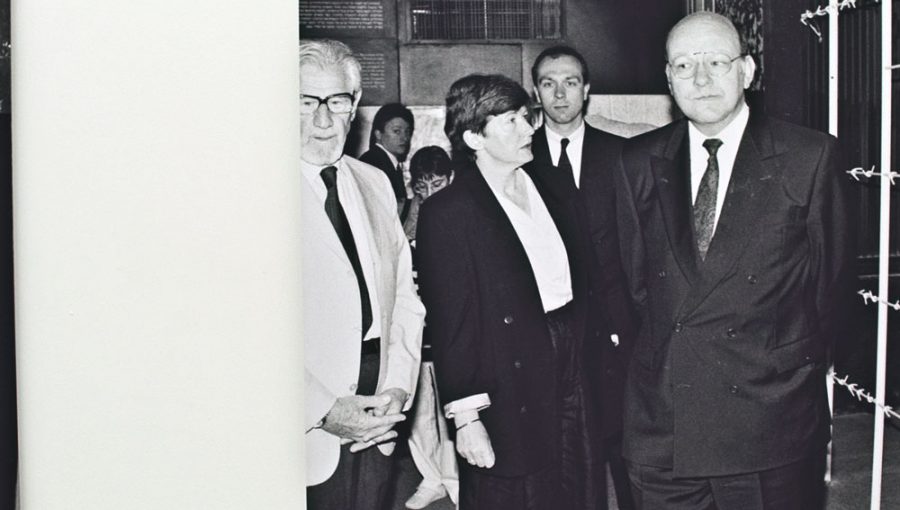 Journal
Eitan Efrat, Sirah Foighel
Journal is a pool of similar one-shot sequences, filmed from the point-of-view of a visitor to a photography exhibition. The cinematographer, who repeatedly followed a strict parcours in the exhibition space, produced a multiplicity of documental visual Journals.
The single screen version presents take # 3. Through the durational experience of a one-shot, Journal questions the production of narratives and their coexistence.
Year : 2013
Length : 16'
Language(s) and subtitles : Sans dialogue
Filmmaking : Eitan Efrat, Sirah Foighel
Credits :
Cinematography : Mathias Windelberg. Sound : Laszlo Umbreit. The printed photographs were taken at "Yad Vashem" Holocaust History Museum in Jerusalem, between the years 1986 and 2000, by press photographer André Brutmann. The reappearing photograph, exhibited in "Yad Vashem" Museum, was taken five days after the liberation of Nazi Concentration Camp – Buchenwald on April 14 1945, by US Army Signal Corps Private H. Miller. Filmed at Wiels Contemporary Art Centre, Brussels, January 2013. Produced by Argos, Centre for Art and Media, Brussels. With the support of Vlaamse Gemeenschapscommissie; Beursschouwburg and Atelier Graphoui. Thanks to Herman Asselberghs, Sven Augustijnen, Manon de Boer, Marie Logie, Agata Jastrząbek, Dirk Snauwaert, Kwinten Lavigne and Wiels, Andrea Cinel, Helena Kritis, Pablo de Ocampo, Daniel Mann, Hanne Foighel, David Bergé and Atelier KZG. Filmed with Ikonoskop thanks to Joachim Vansteelant.
Agenda